The crew
Here you can get to know the people who work with the Greek Expedition. We also present the reasons why you should join the expedition and what our means of transportation are.
Georgios Xyftilis – expedition leader
Georgios came with his parents from Greece to Sweden when he was nine years old. Since then, he has been commuting between the two countries. He has traveled, lived and worked in both countries for several longer periods.
Georgios is a graduate web developer. He has worked for over 15 years in film editing and as a media educator for children and young people. Since the 1980s, he has also worked as a freelance journalist, radio producer and writer in both Sweden and Greece. Throughout his life, he has tried to maintain his roots and make the most of his bicultural identity.
---
Ulf Björkman, PR and Communication
Ulf is up to his ears in love with Greece since his trips to the country in the 1970s, partly by train (Interrail), partly by cheap student flights and partly by an old rusty Ford Transit. The first step on Greek soil was taken on Corfu just over 45 years ago. Since then there have been numerous visits to many parts of the country, especially to the island of Amorgos, which has a special place in his heart.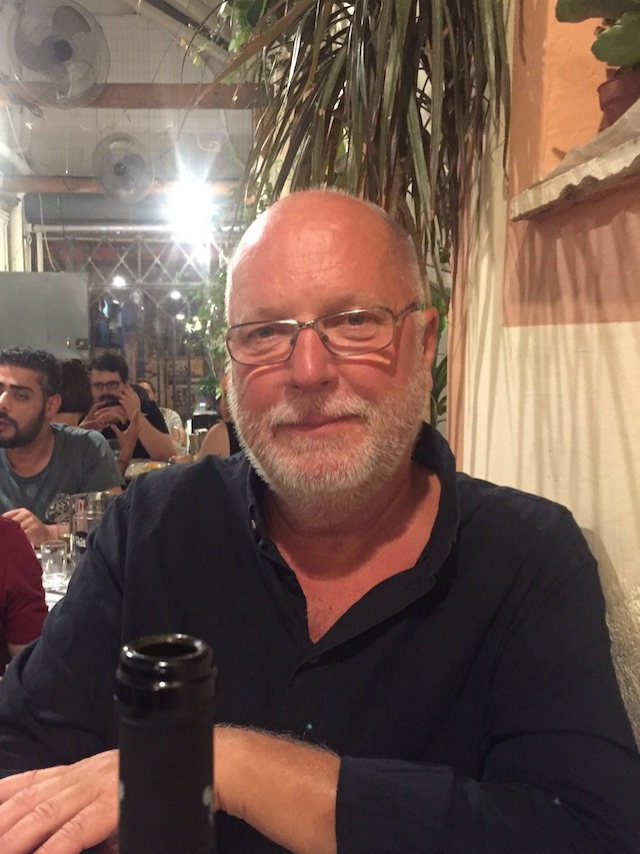 Ulf worked in the music industry for 40 years. Formerly Head of marketing and promotion at Caprice Records. He is now retired. Ulf enjoys spending time in simple Greek taverns with meze and good drinks, listening to music from the country that, according to him, is his second home. In Uffe's own words about the picture below: "An old picture that I like, it says so much about my relationship with Greece in general and Amorgos in particular. It was taken in 1982. The man next to me in the picture is Barba Giannis who was around 90 years old when the picture was taken".
---
Pia Jörhall Polyzou – content creator
Born and raised in Vänersborg, Pia moved to Gothenburg where she studied sociology. She took a degree in social work and was employed as a probation officer in the prison service. She then studied Greek at the University of Athens
In Athens, Pia met her future Greek husband. She worked as a translator and as a newsreader for the state radio ERA, in the program Φωνή της Ελλάδας/Voice of Greece. She now lives in a suburb of Washington DC, has three adult trilingual children and deep roots in both Greece and Sweden.
---
During the journey you will also meet
Karin Berqqvist, who studied Modern Greek at Athens University and lived in the city to immerse herself in the language. A preview of Karin's journey in the Greek language can be found in the video.
Robert Fölsch, a musician and multi-instrumentalist who since the early 1980s has devoted himself to Greek music and collaborated with many famous Greek musicians. Robert and his group "Pireus" released the well-received album "Rebetika in Swedish" in 2018.
Aris Kokotsis, herbalist who has been working with Greek herbs and herbal medicine for over 30 years. He is based on the Ionian island of Lefkada.
Other contributors:
Katerina Kargakou: Advisor, proofreader
Stelios Zachariou: compilation of statistical data from Eurostat and Elstat.
Danae Ruben: showing common Greek gestures and what they mean.
Pinelopi Konstantoudi-Fölsch: helped with the language modules.
Anna B: graphic design consultancy, photographer
Music:
ManData Sound (Elias Tsaggaris & Panos Katsikiotis Tsiko)
Robert Fölsch: on the instruments buzouki, baglamas, tzouras
Reasons to sign up for the expedition